CoffeeB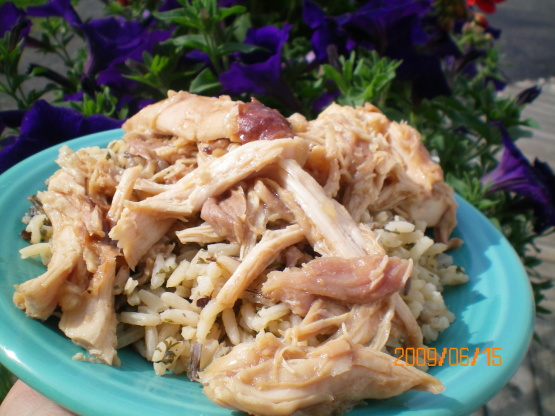 This is a super simple recipe that has a wonderful end result. I have been thinking of new recipes that are fuss free lately, as I have been helping my sister out and been getting home later in the evening. The absolute last thing I want is to have to spend ages preparing a meal, I have been trying to have recipes either ready to go when I get in or ones that do not require lots of prep or cooking time. I came up with this one last week and it was really good and the left over chicken was just as good the next day.

This was a very interesting chicken dish...we have never had honey chicken before, and though some of us found the dish to be a tad to sweet, the flavors did blend together well. We served the chicken over Lo-Mein noodles and stir fried peppers, zucchini, and snap peas. When looking over the recipe, I didn't clue in to the fact that a store bought rotisserie chicken could be used, so I cooked chicken breasts in a little olive oil before making the sauce. I personally think a little more spice would help offset the sweetness of the chicken. Made and reviewed for the 48th AUS/NZ Recipe Swap.
Either keep chicken whole or cut into pieces and place in an oven proof dish.
Combine honey and wine in a pan, stir over heat until honey becomes liquid.
Blend lemon juice, soy sauce and cornflour together.
Add chives, garlic, ginger and cornflour mixture to honey and wine. Stir over heat until mixture boils and thickens slightly.
Pour over chicken, bake uncovered in a moderate (180c) oven for 30 minutes.
I served mine over a nice mixed salad, but serve with whatever you want it is summer here hence the salad. It would be nice with veg and potato if it was colder.