Chicken With Fresh Mushrooms & Snow Peas
Ackman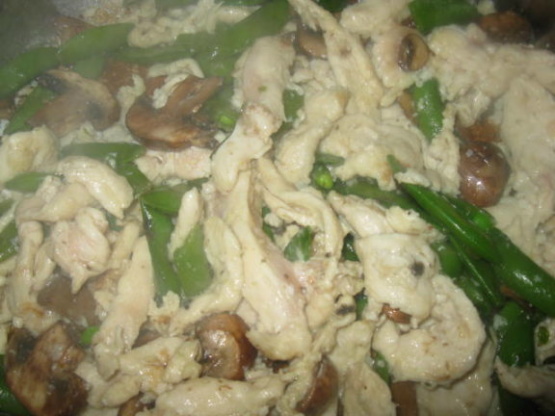 AKA as "Moo Goo gai pan". Found this recipe about 20 + years ago in a local grocery store flyer. I tweaked it a bit & came up with this.....
Lay each chicken breast flat on the cutting board & slice as thin as possible. (This is much easier if they're slightly frozen OR ask your butcher to do it.).
In a large bowl, toss the chicken & cornstarch until well coated.
Add the egg whites, cooking sherry, ginger & 1 teaspoons salt & mix thoroughly.
Snap off the tips of the snow peas, if need be.
Have everything within easy reach when ready to cook.
Heat a 10-12 inches skillet over high heat for 30 seconds.
Pour in 1 T. cooking oil & swirl around pan & heat for another 30 seconds.
TURN DOWN HEAT IF OIL STARTS TO SMOKE.
Add the mushrooms, snow peas & ½ teaspoons salt.
Cook for 2-3 minutes, stirring often.
Transfer the vegetables to a warm platter & set aside.
Add 3 T. cooking oil to the pan & heat for 30 seconds.
Add the sliced chicken &stirring constantly, cook for 2-3 minutes or until chicken is firm & white.
Return the vegetables to the pan & combine with the chicken.
Serve over hot rice.
ENJOY!