Chicken With Fresh Herbs and Vegetables
VickyJ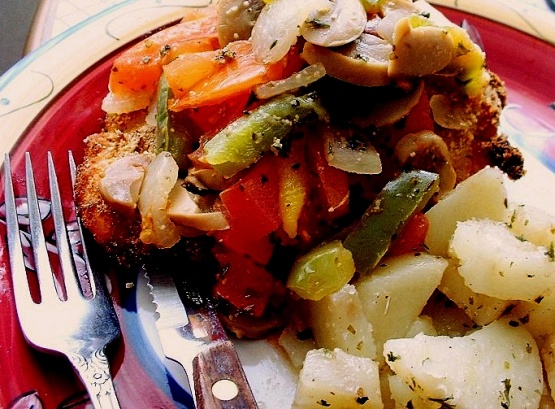 Adapted from Southern Living. Serve this over pasta and you'll have a one-dish meal. You could also add some zucchini to this, or substitute any other vegetables you enjoy.

Very good, classic tastes! We made this with only 2 chicken breast halves (but all the veggies and, ahem, parmesan ;-) and had as a chicken-and-veggies meal for two. Nice stuff! Next time I'll add some red onion and cook for a shorter time - for a bit more bite in both taste and texture. Thank you for sharing!
Dredge chicken in mixture of breadcrumbs and 4 Tbsp parmesan cheese.
Heat oil in a large skillet over medium-high heat. Cook chicken 4 minutes on each side or until browned. Remove chicken from skillet and set aside.
Add mushrooms and bell pepper to skillet; saute' 3 minutes. Add tomatoes, garlic, and salt; return chicken to skillet. Cover, reduce heat, and simmer 10 minutes or until chicken is done. Stir in basil, oregano, and remaining 2 Tbsp parmesan cheese.
Serve immediately.