Leslie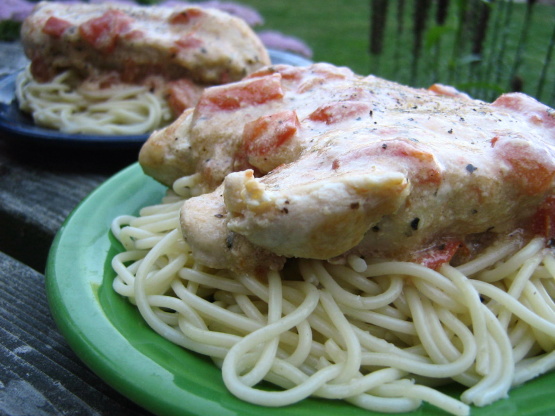 This dish gets five stars by my family - and the neighbors who came to dinner the night I first made it!

This was absolutely gorgeous, the flavour was awesome. I did add a little cornflour at the end, and I mean little, as I found the sauce a bit thin. Apart from that, it was amazing the flavour was so good. I served mine over garlic and spinach tagliatelle and topped with grated parmesan cheese and extra fresh parsley. I would recommend making extra as all my family asked for more:) Wonderful post and this will definitely become a regular in our house. Huge thumbs up by all.
Flatten chicken to 1/2-in. thickness.
In a skillet, brown chicken on both sides in butter and oil; remove and set aside.
In the same skillet, saute onion until tender.
Add basil, garlic, salt and pepper; cook and stir for 2-3 minutes.
Stir in broth, cream, parsley and tomatoes. Return chicken to pan.
Cover and simmer for 15 minutes or until chicken juices run clear.
Meanwhile, cook fettuccine according to package directions; drain.
Arrange chicken over fettuccine; top with sauce.
Yield: 6 servings.