Chicken With Broccoli and Garlic Sauce (5 Points)
teresas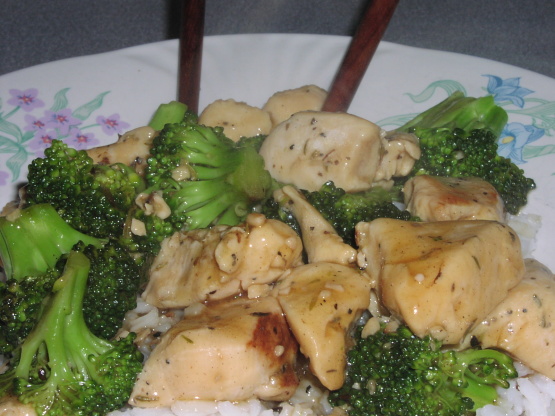 Another great Weight Watchers recipe!

I really enjoyed this recipe even though I didn't use the points for weight watchers since I added some things to the recipe. I added a dash of soy sauce and sesame seed oil to the chicken broth and let my chicken pieces simmer for 30 minutes and I also added sliced carrots and let them cook with the chicken. I added sliced mushrooms and the broccoli the last 10 minutes of cooking time. I omitted the thyme and cornstarch as I didn't need the sauce to be thicken and that I don't care for thyme seasoning. I used Recipe#236938 in place of brown rice. Thanks so much for sharing the recipe. It was very tasty :)
Heat oil in a large skillet over medium-high heat. Place chicken on a plate and season with thyme, salt and pepper. Add garlic to skillet and cook, stirring, 1 minute. Add chicken to skillet and cook until browned on all sides, stirring frequently, about 3 minutes.
Add broccoli to skillet, cover and cook 2 minutes.
Add 1 cup of broth, cover and simmer until chicken is cooked through, about 5 minutes.
In a cup, dissolve cornstarch in remaining 1/2 cup of broth; add to skillet.
Simmer until mixture thickens, stirring constantly, about 1 minute; serve over rice. Yields about 1 cup of chicken and broccoli and 1/2 cup of rice per serving.