Chicken With Apricots and Cider
Annacia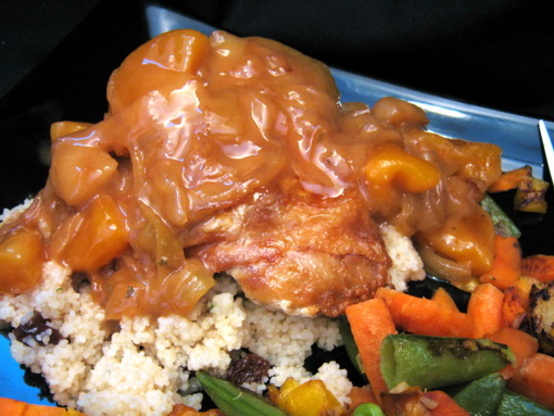 This is a warming stew - lovely served with mashed potatoes and a green vegetable. It freezes very well, and is easy to cook in larger (or smaller) quantities. It should be noted that the cider used here is not the cloudy apple juice drunk in the USA, but rather a fermented, alcoholic drink made from apples.

This was a good start. There wasn't much flavor from the way the recipe was written so I added a little bit of curry. That gave it some flavor that might not otherwise be there. Thanks for a good start.
Heat the olive oil in a large saute pan, and brown the skin sides only of the chicken thighs (you may have to do this in batches), moving them to a dish once browned.
Depending on how much fat has rendered from the chicken skin, you may want to pour some off - you want about 2 tbsp remaining in the pan.
Coarsely chop the onion, and add to the pan. Fry until softened and translucent, then stir in the flour.
Cook the flour mixture for a minute or so, then slowly add the chicken stock and cider, stirring all the time to mix.
Stir in the apricots, and return the chicken thighs to the pan. Cover and simmer on a low heat for 45 minutes, stirring occasionally.
If you are using the walnuts, stir them in 20 minutes before the end of the cooking time.
Season if necessary, and serve.