Chicken With Apricot Salsa
Kathy228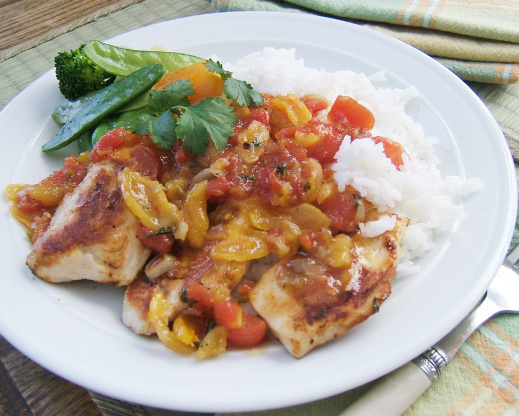 Pulled this recipe from a cookbook about 15 years ago, but unfortunately don't recall the title of the book.

I often have plain grilled meat so finding great sauces/salsas is a must. This one is a keeper. I was worried about it being too sweet so I used a reduced sugar jam. I made 2 small changes... I read the recipe incorrectly and used ground coriander seeds (cilantro) rather than the dried leaf. The other was that I'd run out of cinnamon stick so I used 1tspn of ground. Also, I fried off the dried spices prior to adding the other ingredients so they wouldn't have that 'raw' taste. I found the spices to be well balanced and well matched to the other ingredients. I have left-overs which I think will go wonderfully well with grilled lamb. Thanks Mike. Made for Aus/NZ Make My Recipe #5
In hot oil, over medium heat, saute onion 3 minutes.
Add tomatoes, apricots, apricot preserves, cinnamon, cilantro, ginger, salt & pepper.
Bring to boil, then reduce heat & simmer 20-30 minutes until sauce thickens, stirring occasionally.
Keep salsa warm, & when ready to serve, discard cinnamon stick.
Meantime, broil chicken 4"-6" from heat for 18-23 minutes, or until meat is fork tender & juices run clear, turning once, halfway through broiling.
Meantime, also prepare rice.
To serve, top rice with chicken breasts, then spoon salsa over chicken.