Chicken With Apricot-Ginger Sauce
ImPat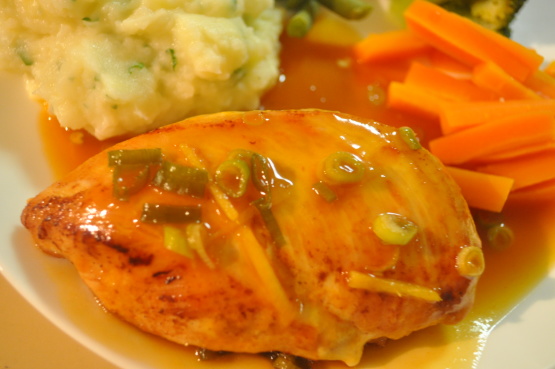 The sauce can be made a day ahead. The chicken is best cooked just before serving to prevent drying out.

I accidentally defrosted chops and chicken instead of just poultry and decided to make both with this sauce. Surprisingly, it was even better with the pork then the chicken. I loved how the ginger and soy paired with the apricot nectar transforming a simple sauce into layers of flavor. Made for 123 Hit Wonders.
Heat butter and oil in pan, add chicken, cook about 10 minutes on each side or until golden brown and tender.
Remove from pan, place on serving dish, top with sauce.
Apricot-Ginger Sauce:.
Make sauce while chicken is cooking.
Cut ginger into wafer-thin slices, then into shreds.
Combine apricot nectar, ginger and soy sauce in pan, bring to a boil, stir in blended cornstarch and water, stir until sauce boils and thickens, add green onion.