Chicken With a Red Pepper Cream Sauce
Fresh herbs marinate the chicken all day, and then topped with a savory red pepper cream. Served over angel hair pasta lightly tossed with olive oil, basil, and grated parmesan. If you can't get fresh herbs, please feel free to use dry herbs for the marinade. Just use 1 teaspoon dried vs. 1 tablespoon of fresh. Also, by all means, substitute turkey breasts, pork tenderloin or cut a tenderloin in thick slices, or even use chicken thighs (boneless skinless). Secondly, this is great on fish, but obviously you only want the fish to marinade for just a couple of hours, depending on the thickness. You don't want to over power the fish flavor.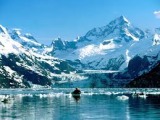 Originally rated on 8/31/09 - This recipe made it into my book#266453. Instant favorite! This recipe is awesome. It is packed with complementing flavors. The marinade really makes the finished grilled chicken special (even on it's own). I loved the addition of red pepper flakes, making the chicken just a little spicy. The chicken was great grilled, but I'm sure it would still be fantastic using an indoor grill or pan. For the red pepper cream: I emptied a 12 oz. jar of roasted red peppers into my food processor and purreed it all. I then used about 10 tablespoons (instead of 8) of the puree in the cream. There was still some pureed red pepper left over but I'm sure I will find a use for it! The pasta base: I LOVE the olive oil, parmesan, black pepper, fresh basil combo. I could have eaten this on it's own, too. So simple and so amazing. All together: sliced the chicken and served it atop the pasta then poured most of the red pepper cream sauce over it all - leaving some in the pan, in case people wanted to add more to their own plates. Just loved this recipe and can't recommend it enough. Lots of steps but really EASY!
Marinade -- In a large baggie, add the first 8 ingredients and toss well until the chicken is well coated. Let marinade all day.
After marinating all day, remove and let come to room temperature. As the chicken rests, make the red pepper cream sauce. Add the red peppers to a mini food processor and puree. Add to the heavy cream in a small pan and cook on medium low for about 20 minutes to slightly reduce and thicken. Before serving, add a little black pepper to the sauce.
Chicken -- Grill the chicken, inside or outside. Grill until golden brown. About 15 minutes depending on the thickness of the chicken. This can also be pan seared if you prefer to do that method. Once cooked, remove and cover with foil.
Pasta -- As the chicken rests, cook the pasta accordingly in a large pot of boiling water. It only takes 5 minutes. Drain and toss with the olive oil, grated parmesan, pepper and fresh basil.
Serve a bed of pasta topped with your chicken breasts sliced and then top with the red pepper cream.