Chicken Wings With Honey, Soy and Sesame
ImPat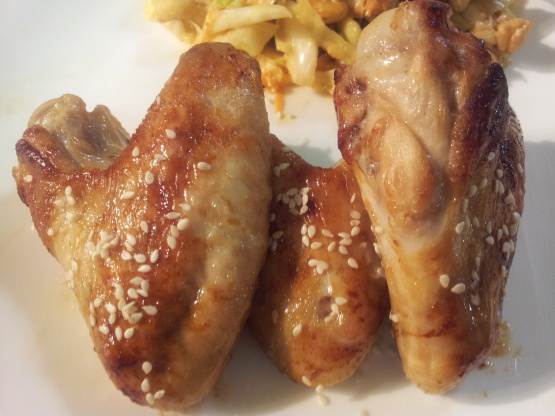 Great as an appetizer and scaled up, perfect for party nibbles, these sticky chicken wings are simply superb!

Top Review by ImPat
I scaled for 9 wings (3 of us) but there was no way I was going to be able to fit them into my pan that could fit in the oven so foil lined a tray and heated that up in the oven while I browned the wings in 2 batches and then transferred them to the hot pan and poured over the sauce but 10 to 12 minutes to cook them was no were near enough, mine took 35 minutes and then they were only just cooked an could maybe have done with another 8 to 10 minutes to be fall off the bone (I did turn them at the 15 minute mark as from the beginning I had my doubts about the cooking time)' The flavour overall was very good and was enjoyed, made for Name that Ingredient tag game and I thank you English_Rose for posting the recipe and one I will consider making again but with tweaks to suit us.
Preheat the oven to 375°F Heat the vegetable oil in a small ovenproof frying pan. Fry the chicken wings for 2-3 minutes on each side, until golden.
Remove the pan from the heat and add the soy sauce, water and honey.
Transfer to the oven and cook for 10-12 minutes, turning the chicken wings once.
Arrange the chicken wings on a warmed platter, scatter over the sesame seeds and serve.