Chicken Wings With BBQ Sauce for the Crock Pot!
lazyme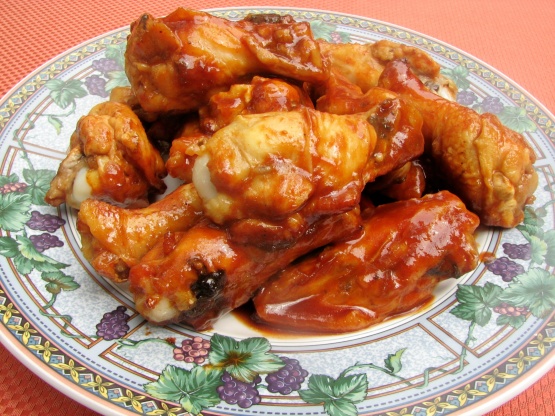 Who doesn't love chicken wings? Cooked in the crock pot - super easy!

This is a great recipe that makes the cook look like a pro !. I followed this exactly as given, but I used fresh chicken wings, and didn't clip any tips off. Nor did I separate wing sections. This is the second time I've used this recipe, and you can vary it by using different barbecue sauce types. I used a smokey one this time.
It's so good, I think it could adapt to drumsticks. Or cut-up fryers.
The secret is the broiler time. That browning makes all the difference.
Cut off and discard wing tips. Cut each wing at joint to make two sections.
Place chicken on the unheated rack of a broiler pan. Broil 4-5 inches from heat for 15-20 minutes, turning once. Transfer chicken to slow cooker.
For sauce, combine bbq sauce, honey, mustard and worcestershire sauce, pour over chicken wings. Cover and cook on low for 3-4 hours or on high for 1 1/2- 2 hours.
Enjoy!