Chicken Wings.... With an Asian Flair
2Bleu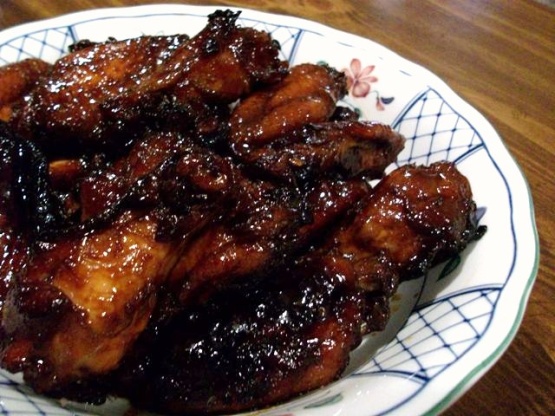 These were excellent, even using fat free myple syrup ( won't do that again) All of the flavors went so well together and I would not change a thing about it. I believe because I used fat free myple syrup, mine did not carmalize like that in the photo and I had a lot of liquid that didn't evaporate. Saying that, the flavors were point on. Thanks for sharing. Made for PRMR :)
Preheat oven to 350 degrees Fahrenheit. In large bowl mix teriyaki sauce, soy sauce, minced garlic, sesame seeds, garlic powder, onion powder, red pepper flakes, and maple syrup.
Place chicken in sauce and toss to coat. Pour chicken and sauce into a large disposable baking pan. (disposable for easy clean up, or use foil).
Bake for 1 hour, tossing every 20 minutes; the liquid will gradually evaporate the longer you cook it.
After 1 hour, increase the oven temperature to 425 degrees Fahrenheit. Turn wings to coat evenly and cook for an additional 45 minutes.