Chicken Wings in Honey Sauce - Crock Pot
Nique613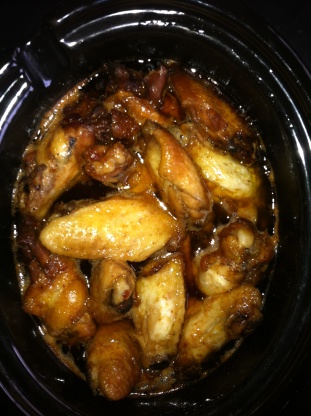 I made this last weekend and am making it tonight. It is out of this world. Honestly, I gave out the recipe a few times. I got it elsewhere and noticed it was here and just had to review. Just delicious. I use the drummette part of wings, use nice big wing. I cut recipe in half and used 2 pounds of wings.
Rinse chicken and pat dry.
Cut off and discard wing tips.
Cut each wing at joint to make two sections.
Sprinkle wing parts with salt and pepper.
Place wing parts on broiler pan.
Broil 5-4 inches from heat 20 minutes, 10 minutes a side or until chicken is brown. Transfer chicken to crock pot.
For sauce, combine honey, soy sauce, ketchup, oil and garlic in bowl.
Pour over chicken wings.
Cover and cook on low 4-5 hours or on high 2-2 /2 hours.
Garnish with sesame seeds, if desired.