Chicken Wings... Hot Dawgie Style
2Bleu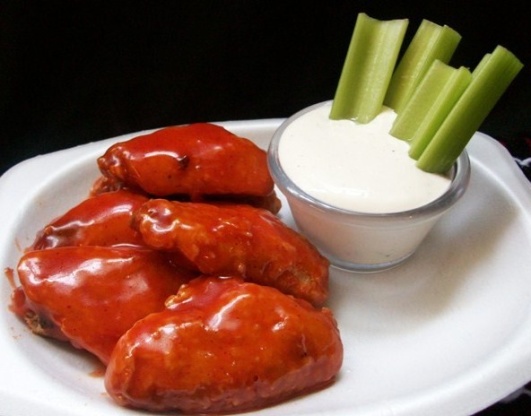 aka "Buddha's Bulldog Wings"
I expected the sauce to be way too hot, what with all that hot sauce in it, but it was really just fine and very tasty. If you substitute another brand, you should taste as you add, because I think Texas Pete's isn't as hot as some. (Cholula's is very close.) I used the Clone Kraft's Catalina Salad Dressing, as I wanted to avoid all that sugar in the sauce for hubby's sake. (That's a great clone, well worth a try!) I'm not fond of chicken wings, because I don't like the skin. While mine browned up nicely, some were not quite done enough in the middle for my taste. So, to avoid this, I'd recommend frying all the wings, then baking for a few minutes to insure doneness, then dumping the wings in the sauce. That way, you con't have to worry about keeping them warm as you do each batch. You just put them all in a pan and then stick the whole thing in a hot oven together for 10 min. or so. I tried these with blue cheese dressing, as some others had. I really would have liked them much better with the recommended ranch dressing. While I probably won't make this recipe exactly as is again, I may make the sauce again and use fried chicken strips or nuggets instead of wings. The sauce was really excellent and so easy to make!
283.49

g Catalina dressing

141.74

g texas pete hot sauce (or to desired heat level)

4.92

ml chili powder

20

fresh chicken wings, separated at joints disposing tips

9.85

ml paprika
flour (for dredging)
oil (for frying)

accompaniments

236.59

ml bleu cheese salad dressing, for dipping (or Ranch dressing)

4

celery ribs, trimmed and split lengthwise and cut in half
Mix Catalina, Texas Pete, and Chili Powder into large bowl and set aside. In another large bowl toss wingettes with paprika and garlic powder.
Place flour in a plastic grocery bag. Add wingettes (a few at a time) to the bag, twist shut and shake or 'knead' the bottom to coat wings.
Shake off excess flour from wingettes, and drop wingettes into hot oil, enough to fill the pan. Do in batches. Cook about 12-15 min until done.
Place immediately into bowl of Dawgie Wing sauce and toss to coat. Transfer wings to a serving platter and keep warm.
Continue with rest of chicken. Serve with ranch dressing and celery stalks.