Chicken Wings.... Hot Cafe Style
loof751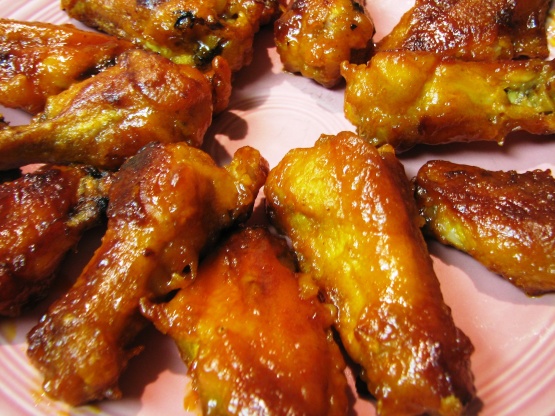 No clue as to this recipe's origins, but sounds yummy.

These were great wings! I couldn't find the brand names your suggested but did use 6 oz of buffalo wing sauce and 4 oz of hot wing sauce, along with the other ingredients. The sauce was tangy and spicy and I liked that the wings were baked, not fried. I made some with wings and some with boneless tenders and we loved them both - thanks for sharing!
MAKE THE SAUCE: Combine all ingredients in saucepan over medium heat and stir until mixture comes to a boil.
Reduce heat and cook until thickened, about 20 to 30 minutes. (This amount of sauce is enough for 40 to 50 chicken wings).
CHICKEN: Combine flour, salt, pepper and red pepper in a plastic grocery bag. Shake the wings 6 at a time until well coated.
Shake off excess flour and place on a baking pan that has been sprayed with nonstick cooking spray. Bake in a preheated 425 degree oven for 35 minutes.
BASTE: When chicken has cooked for 35 minutes, remove from oven and brush sauce generously over wings. Return to oven for 10 minutes.
Remove from oven and turn wings. Brush with sauce and return to oven for 5 minutes. Serve with remaining sauce.