Prep 10 mins
Cook 40 mins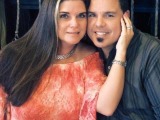 This is a wonderful soup. Pair it with some good bread for a delicious, quick meal.
Directions
In a large saucepan, combine the first nine ingredients.
Bring to a boil.
Reduce heat; cover and simmer for 30 minutes.
In a soup kettle or Dutch oven, melt butter.
Stir in flour until smooth.
Gradually whisk in broth mixture.
Bring to a boil; cook and stir for 2 minutes or until thickened.
Whisk in soup and wine or broth.
Add rice and chicken; heat through.
Reviews
Most Helpful
Wonderful flavor. I made it in my pressure cooker and used water instead of the broth, added the chicken, onion and carrots and some celery. After cooking, I strained out the goodies, cooled to pick out the bones and added everything to the broth. Some salt and pepper made it perfect. I will make this again and again. Thanks for a great soup recipe!
This is very good. It makes a lot of soup, I should have made half. It does take some time but if you would do the wild rice and chicken ahead of time, it would be easy.

OMG - this was good! Very tasty, the only thing I found was it was extremely salty but this could have been because I used a wild rice mix that had seasoning in it? Next time I'll try it with just wild rice. One of the best soups I've ever made :) Definitely a keeper!