ImPat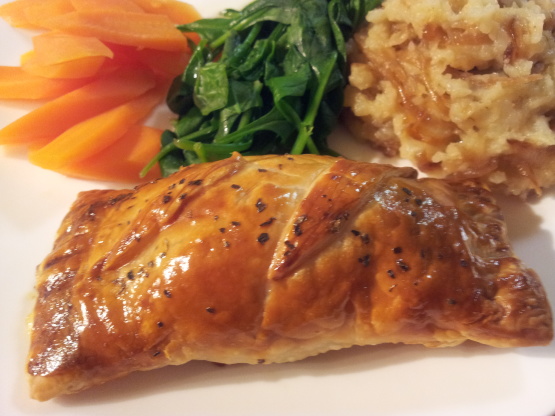 You can prepare Wellingtons in advance; cover and refrigerate up to several hours or overnight before baking. Substitute bottled pesto for the tapenade if you like.
2 -3

tablespoons basil and parmesan tapenade

2 -3

sheets frozen butter puff pastry, thawed

1

egg, lightly beaten, to glaze
dried basil leaves, to garnish
steamed green & yellow vegetables, to serve
Preheat oven to 180°C/160°C fan forced.
line a baking tray with baking paper. Place thighs on a work surface, open out and generously spread tapenade inside each. Fold fillets back into shape.
Cut pastry sheets in half. Place chicken at one end of the sheet fold edges in, fold pastry over chicken and roll to make a neat parcel. Pinch sides to seal.
Place, seam-side down, on a prepared tray. Brush with egg to glaze. Sprinkle with basil.
Bake for 25-30 minutes or until chicken is cooked through and pastry is golden brown.
Serve with vegetables.