Chicken Wellington With Mushroom Veloute Sauce
Sara 76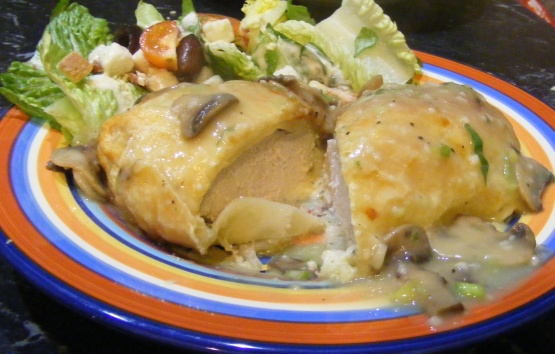 This recipe is a little more involved but well worth the effort, in my opinion. This is a nice dish to serve when entertaining because it looks impressive. I've included a separate recipe for the mushroom sauce, which tops the chicken wellington. I really hope you enjoy this special recipe! *The prep time does not include 2 hours of refrigeration* Note: You can make the mushroom sauce earlier in the day and reheat while cooking dinner. It just cuts down on the amount of things you have to do at dinner time. ;)
Prep Chicken:.
In a mixing bowl, combine white wine, basil, oregano and mix well.
Place chicken breasts in a shallow dish and pour the wine mixture on top to marinate. Refrigerate for 2 hours, turning the chicken breasts every half hour to insure all areas are marinated.
Prepare the Mushroom Veloute Sauce:.
In a saucepan, bring the chicken stock to a boil.
In a saute pan, over medium heat, melt 2 Tablespoons butter and saute mushrooms and shallots until tender.
In another medium saucepan, over medium heat, melt the other 2 Tablespoons of butter, slowly stir in flour to make a roux. Cook for about 2 minutes, being careful not to burn.
Slowly add (HOT) chicken stock and whisk until smooth. Bring this sauce to a boil, then reduce heat to simmer.
Add mushrooms and shallots, salt and pepper to taste, and simmer for 10 minutes - then keep warm OR reheat while the chicken is cooking.
Chicken Wellington:.
Divide each Boursin into thirds (so you have 6 portions).
Remove chicken breasts from the marinade, reserving.
Put the marinade in a saute pan (over medium heat) until the sauce gets hot, then add the chicken breasts and poach for 5-10 minutes, flipping halfway through. *The timing really depends on how thick the breasts are. Just make sure that the chicken is mostly cooked through*.
Remove the chicken breasts and let cool for about 20 minutes. Meanwhile, preheat the oven to 375 degrees.
Cut each puff pastry sheet in half. Using 6 halves, place each breast in the center and top with a portion of boursin cheese. Place each remaining puff pastry on top of eacj chicken breast, pinching the puff pastry to seal around the chicken. Cut any excess puff pastry off.
In a small bowl, make an egg wash by mixing the egg and water together, then brush the top of the Wellington with egg wash.
Bake for 25 minutes. (To get a golden brown color, you may need to broil for 1-2 minutes after baking.).
Remove from oven and place each Wellington in the center of the serving plate and top with Mushroom Veloute Sauce. Sprinkle with chopped parsley and serve.