Chicken Wellington (Puff Pastry-Wrapped Chicken)
French Tart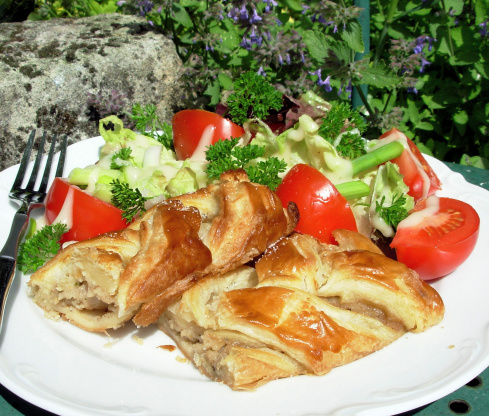 This is not at all hard to put together, it's an amazing dish to serve to dinner guests and I have done so many times over the years and have always receive rave reviews from everyone at my table and you will too! --- to save time saute the onion, garlic and mushrooms up to a day ahead, the cream cheese and Dijon mustard mixture may be increased slightly -- I always serve this with Creamy Mushroom Sauce/Gravy drizzled over or on the side of the plate, you will *love* this!

We liked this very much. the first one i douldn't get the pastry to wrap around it. I used 2 large chicken breasts and fileted them to make 4 servings and 1 sheet of pastry. the second "wrap" i cut the chicken breast in half and tried that way still no dice. the last two I did a little different than instructed, I spread the cream cheese mixture (which is where I put the parsley -by the way) topped that with the mushroom/onion and then place sliced pieced of chiken on that then wrapped and sealed so the the "stuffing" would be on top while the seal was on the bottom. The 2 in which the toppings ended up on the bottom were a little soggy on the bottom when done. I didn't have any wine to make the suggested gravy, instead sauteed some mushrooms in a little EVOO and then added a dry brown gravy mix (mccormicks i think) that i had in the pantry- it was a nice sauce. also had with my own #357596 roasted potatoes and onions and some steamed brocolli and cauliflower. i very nice meal! thanks for sharing
Season the chicken breast with seasoning salt and pepper on all sides.
Heat butter and oil in a skillet.
Brown the breasts on all sides until almost completely cooked through; transfer to a plate.
To the same skillet add in onions, garlic and sliced mushrooms; saute until the mushrooms lose their moisture and the onions are tender.
Stir in parsley.
On a floured surface, roll out each puff pastry sheet to a 14-inch square.
Cut into four even 7-inch squares (you should have 8 squares total).
Place each breast over each puff pastry square.
Set oven to 375 degrees.
In a small bowl combine the softened cream cheese with mustard, then spread over EACH breast.
Then top with about 2-3 tablespoons mushroom/onion mixture.
Brush the edges of each pastry square with water.
Wrap pastry around the chicken breast, pressing edges to seal tightly.
Place seam-side down on greased baking sheets.
Brush the tops with egg wash.
Bake for about 20 minutes, or until puffed and golden brown.
Serve with mushroom sauce over the Wellington or on the side of the plate.
Delicious!