Chicken Vol-Au-Vents With Sweet and Sour Salsa
Peter J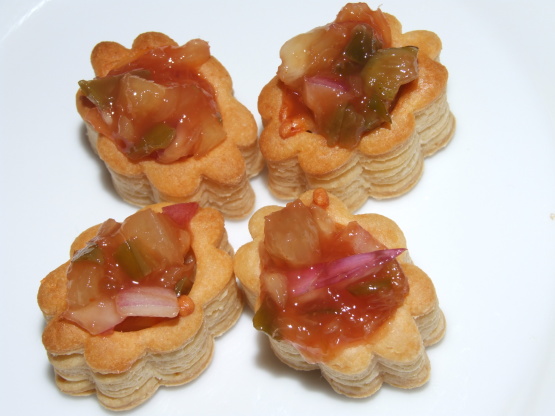 Classy enough for a dinner party but simple and quick enough for any occasion. Has an interesting contrast of hot versus cold and sweet & sour versus savory tastes. The salsa and vol-au-vents can be prepared in advance making it a quick one to pop in the oven as guests arrive. Please note the preparation time does not include the 30 minutes of refrigeration time for the salsa. The quantity of chicken and cheese will vary a little bit depending on the size of the cases, so fill them by eye using the directions rather than bothering to measure them out.

Top Review by Pixie
This salsa is great - not super hot and a delicious blend of flavours! It really goes well with the melted cheddar and chicken. I couldn't find the small vol-au-vent shells, so I tried it with a package of 6 large ones and it made lunch for three. Went over really well with my husband and son. Should I find the small size vol-au-vents, I'll buy them to give this a whirl as an appetizer, especially since I know in advance we'll love them! Thanks for posting, it's a keeper and I'll probably try the salsa with other things.
Make salsa by mixing together ingredients from pineapple to vinegar together thoroughly in a bowl.
Place in refrigerator for 30 minutes or more.
Preheat oven to 300°F (150°C), set the baking sheet to be around the middle of the oven.
Place a piece of cooked chicken in each case that fills it to about half way.
Top with a little cheese, it will melt down a bit during cooking but leave some room at the top for the salsa to be added after cooking.
Bake filled vol-au-vents case on a baking sheet for 10-15 minutes until cheese has melted, keeping an eye on it to make sure the vol-au-vent cases don't burn.
Top each evenly with the salsa mix (about 3/4 teaspoon each) and serve.