HayD413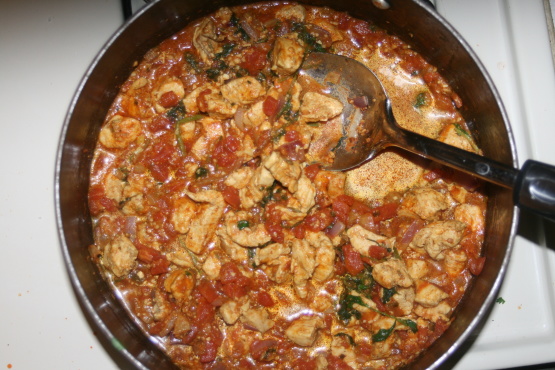 Any Red Dwarf fans out there will recognise this one.... A Kerala specialty, hot and spicy. Use prepared masala if you wish.

5 big ones here - for the recipe and the reference to Red Dwarf...hehe. I made a couple of changes...I used 2 fresh birds-eye chilli's (with veins and seeds...hooooweeee), I used a 5cm piece of ginger (which I grated on a fine microplane) and I increased the garlic to 3 cloves (also grated). I used four tomatoes because mine were small. I had the three curry-lovers home tonight (dh,ds and me)...we loved this - and I can tell you that we know our curries!! Served with rice,lemon wedges and pappadums. Total heaven.Thanks for a delicous meal!!!
Rub chicken with turmeric and set aside.
Grind the next 6 ingredients, by hand or a spice grinder, until powdered (this is masala).
Mix the masal with enough water to make a thick paste.
Grind the cashews and raisins to a paste.
In a wok, chow the onion until soft and browned.
Reduce heat.
Add the ginger and garlic, stir together until aroma is released.
Add the masala paste, stir until the oil separates out of the mixture.
Add the diced tomato, cook for about 2 minutes.
Add the chicken to the wok, toss to coat.
Add 1 1/2 cup of water, stir well, reduce heat further and cover.
Simmer until chicken is done and tender.
Stir in the cashew/raisin paste.
Remove from heat, garnish with cilantro leaves.