Chicken Vegetable Soup With Ginger Meatballs
loof751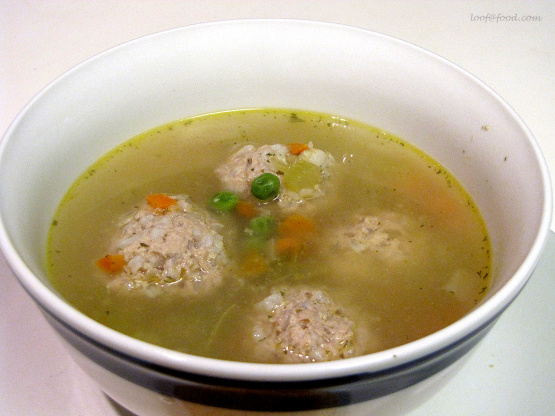 The cancer fighting kitchen; Rebbaca Katz inspired this one.

Wow this is a great soup! I used ground turkey instead of ground chicken, otherwise made as directed. The ginger flavor is noticeable but not overpowering and the meatballs were nice and tender after cooking in the soup. Thanks for sharing a great recipe!
Heat olive oil in stock pot; add onions and carrots.
Add ginger and cloves; add celery; add scallions; saute a bit.
Add chicken stock, parsley and bay leaf.
Bring to a boil then simmer for 20 minutes.
Bring back to boil.
Combine all meatball ingredients.
Form 1 inch meatballs.
Drop into boiling stock.
Cook 30 more minutes, covered, on a low simmer. Add peas last 5 minutes of cooking.