Bergy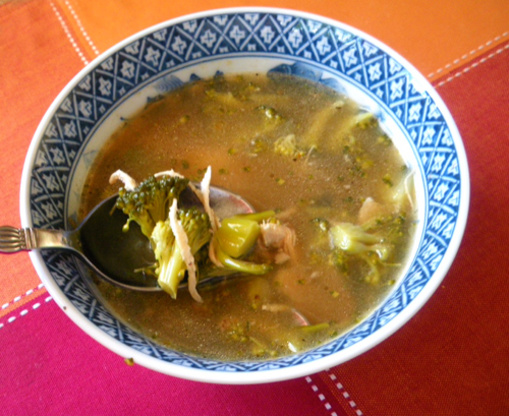 I came up with this recipe on a cold rainy night. I am on the South Beach Diet and wanted some soup and came up with this one. Something a little different from your run of the mill Chicken Noodle Soup.

Totally yummy soup, Sly. I made it for take to work lunches this week for me and the husband. The poultry seasoning and bay leaves add a wonderful flavor. Very healthy and filling. Had a small green salad to go with it and we were set. Thanks for sharing your creation.
Simmer chicken, chicken broth, bay leaves, poultry seasoning, cajun seasoning, salt, parsley, garlic, celery and onions in large pot for a couple of hours or until chicken is falling apart.
Add broccoli and zucchini, cook until tender.
Remove bay leaves.
Enjoy.