VickyJ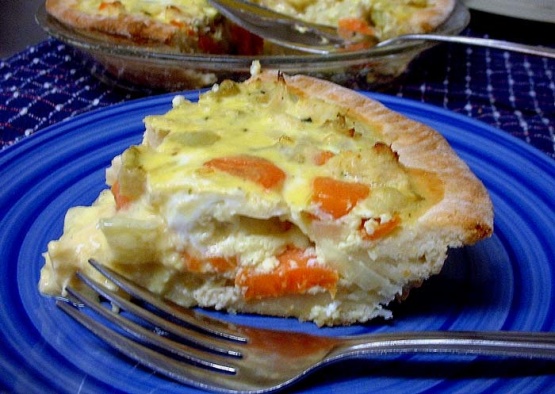 I made this recently for dinner, and it was delicious! Lately,I have been coming up with recipes with what I have on hand. For the crust I used All-American Pizza Crust, but you can use any prepared crust or a 12" pizza crust recipe.

Excellent quiche my friend!
Preheat oven to 350°F.
Saute diced onion in olive oil over med-high heat.
In a med-sized bowl, mix cooked vegies, onion, chicken, italian seasoning and garlic powder.
Roll out crust and perforate bottom. (if fresh dough, prebake 10 min).
Beat eggs, soup, cream, salt and pepper with a whisk in a med-sized bowl.
Spread chicken and vegetables in crust.
Pour egg mixture over other ingredients in crust.
To prevent burning, cover edge of crust with foil.
Bake for 30-35 minutes.
Let stand for 5 minutes.
Cut and enjoy.