Chicken Vegetable Pasta Soup
Calee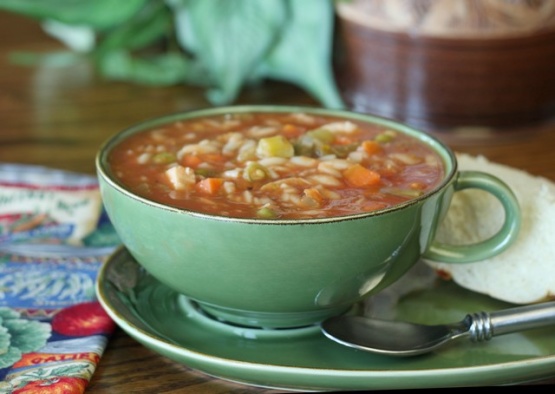 This is a clean out the fridge and pantry sort of soup. Feel free to substitute whatever vegetables you have around. Now I like my soup with a high goodies to broth ratio, more like a stew perhaps, so you may want to add more liquid. This would easily work in a large crock pot if you added the pasta at the end.

Top Review by Calee
This is very good soup, loaded veggies and very thick! I used fresh broccoli and fresh green beans. The tomatoes with basil, oregano and garlic gives a nice flavor but I added a bit more garlic. Very easy to make. The orzo cooked in 15 minutes. Thanks for sharing this recipe, one I will be making again.
Combine all ingredients except broth and orzo in a large pot.
Add broth until there is a little more broth than you like in a soup (the orzo will absorb some liquid).
Slowly bring the soup to a simmer and simmer for an hour or more.
Add orzo and continue to cook until orzo is tender.