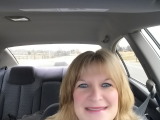 These are quick and easy but tasty. I try to use recipes that don't take a lot of time and that are kid friendly. This is a hit.
Directions
Combine cheese, celery, onion, chicken and peppers.
Roll out biscuits on a lightly floured board.
Place 1-2 Tablespoons chicken mixture on each biscuit.
Fold over and seal edges.
Bake in 400 degree oven for 12 minutes or until brown.