Debbwl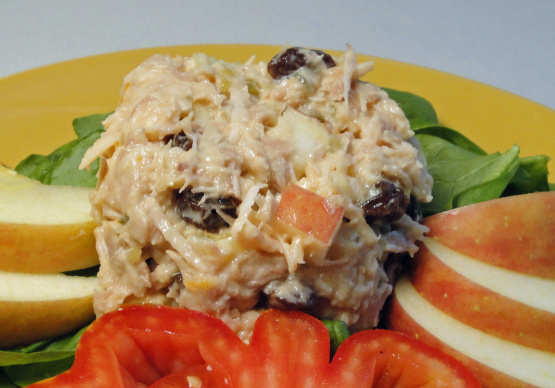 Here's a recipe I whipped up to jazz up the usual tuna or chicken salad. Instead of the usual 'tuna' I actually use a can of chunk solid white albacore. The resulting salad can be used in a wrap, on bread, on lettice leaves, and various other ways! Very tasty!

Top Review by Debbwl
Delightful change of pace! Served on a bed of spinach for a light and healthy summer meal, while a tad sweet for our taste we did like the mix of chicken, tuna and apricot preserves. I made as written and think next time may cut back on the raisin a little to bring the sweetness in line with our taste. Thanks for the post.
Drain the chicken & albacore & shred them in a bowl.
Add the mayonnaise, mustard, preserves & pickle relish.
Quarter the unpeeled apple & get rid of the core.
Stand each quarter apple on its edge and slice each in half lengthwise, keeping the red halves.
Dice these red halves & add to chicken/albacore mix, along with the raisins.
Mix well & season with pepper to taste.
Refrigerate.