Chicken Tortilla Soup With "the Works!"
Pellerin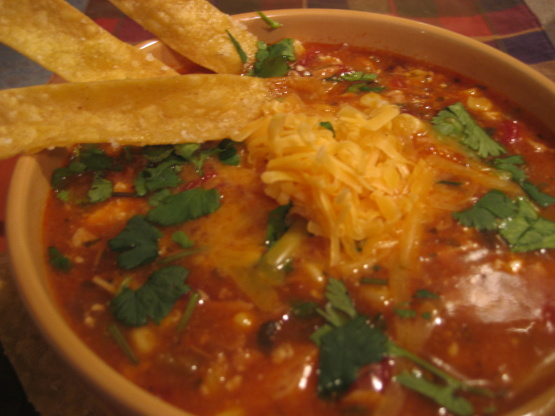 Warm, soothing, spicy, but not hot, and FILLED with flavor (and protein!) this has been my favorite "chicken soup" for recovering from a couple of recent surgeries. *Almost* makes it worth the Dr.'s visit!" You can use either the meat from two whole roasted chickens from your local mega-mart, or 4 cans of chicken breast from Costco - the latter is easier, or you can mix n' match - just use what you have available!
SOUP

2

whole roasted broiler-fryer chickens (skinned, boned, shredded or chopped, don't forget the thighs!, or 4 cans of Costco canned chicken br)

2

tablespoons olive oil

1

large sweet onion, diced

16

ounces frozen corn, thawed & drained

2

garlic cloves, minced

14

ounces black beans, drained

28

ounces tomatoes, diced

28

ounces mild red enchilada sauce (Use from Cheese Enchiladas in Yummy Red Sauce, or use Victoria)

28

ounces mild green enchilada sauce

4

ounces green chilies, chopped (not jalapeno)

6

cups chicken broth (I use one and a half boxes of Swanson Organic Low Sodium, great flavor)

2

teaspoons cumin, ground
1 1⁄2 teaspoons chili powder

2

teaspoons salt
1⁄2 teaspoon pepper

2

tablespoons cilantro, dried

ADD

1⁄2 cup fresh cilantro, chopped
1⁄2 lb Cotija cheese, crumbled (can use Queso Fresco)
1⁄4 lb sharp cheddar cheese, cubed
1⁄4 lb mozzarella cheese, grated

GARNISH

1⁄4 lb sharp cheddar cheese, grated
1⁄4 cup fresh cilantro, chopped
In a large skillet on medium/high, saute' onions and corn in olive oil until lightly browned. Reduce heat to medium and add garlic. Cook 2 minutes.
Into a large crock-pot or Dutch oven, place remaining soup ingredients (everything else on "soup" list, except cheeses). Add onion/corn/garlic mixture, stir, cover and simmer on low for 6-8 hours.
When ready to serve, remove bay leaves and add 1/2 cup fresh cilantro and cheeses. Simmer gently until cheeses begin to melt. Meanwhile, cut tortillas into strips and fry in corn or peanut oil until crisp. Drain on paper towel and salt immediately. Garnish each bowl with grated cheese, tortilla strips, and sprinkle of fresh cilantro.
Que Bueno! 8-)).