Brenda.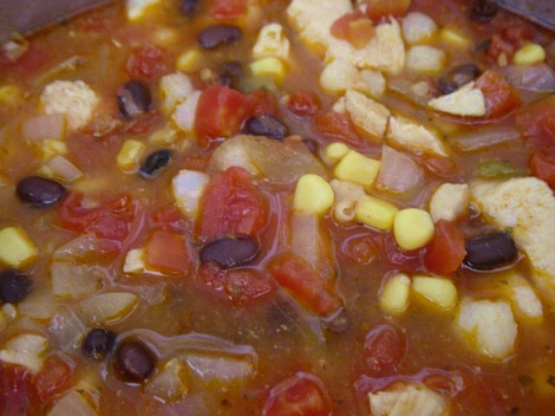 This soup is quick to make, flavorful, and filling! Serve with warm corn bread or tortillas. This also freezes well.

This was ok, but not as flavorful as I'd hoped. I think there are too many tomatoes for my taste. I added some taco seasoning and chili beans to see if that would help, but it still wasn't as good as tortilla soup I've had before.
In a medium stock pot, saute onion and garlic in oil.
Stir in chili powder, oregano/Italian seasoning, tomatoes, broth and water.
Bring to boil and simmer for 5 to 10 minutes.
Add corn, hominy, chili peppers, beans, cilantro, and chicken. Simmer for 10 minutes.
Ladle soup into individual serving bowls and garnish with avocado, grated Jack cheese, chopped green onion, or crushed tortilla chips.