WiGal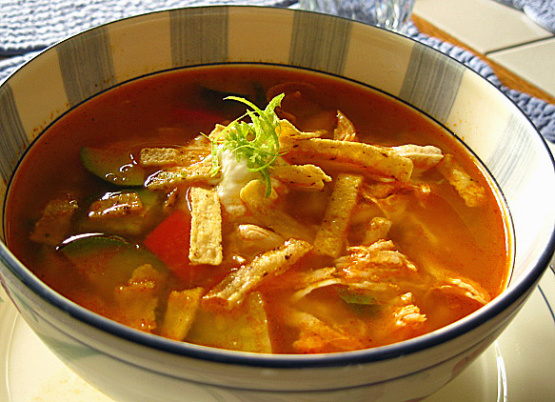 After tasting the best tortilla soup of my life in Kino Bay, Mexico, I set out on a quest to duplicate. The recipe has been somewhat 'gringoized' however it's very close. The key is use the freshest ingredients as possible.
Best chicken tortilla soup I have ever had. So many flavors. It's just lovely.
corn tortilla strips

8

corn tortillas, cut into 1/2 inch wide strips

1

tablespoon vegetable oil

1

pinch salt

soup

8

cups vegetable broth or 8 cups low sodium chicken broth

1

lb sweet onion, peeled and quartered

2

small zucchini, chopped

1

red pepper, chopped

4

garlic cloves, peeled

10

sprigs cilantro
1⁄2 teaspoon salt

2

medium tomatoes, cored and quartered

1

poblano pepper, chopped in 1/2 inch pieces

1

chipotle chile in adobo, plus

1

tablespoon adobo sauce

1

tablespoon vegetable oil

Garnish

1

lime, cut into wedges

1

avocado, Diced

1

cup shredded Cotija cheese or 1 cup monterey jack cheese
1⁄2 cup cilantro, chopped
1⁄4 cup jalapeno, minced

1

cup sour cream
Tortilla Strips:.
Preheat oven to 425 degrees.
Spread tortilla strips on rimmed baking sheet;drizzle with oil and toss until evenly coated.
Place in oven, rotating pan and shaking after 7 minutes.
Bake until strips are deep golden brown and crip.
Transfer chips to paper towels to drain and season with salt.
SOUP:.
In large sauce pan bring chicken, broth, 1/3 of quartered onions, 2 garlic cloves, cilantro and 1/2 teaspoon salt to boil over medium-heat; reduce heat and simmer until chicken is cooked, about 20 minutes.
Transfer chicken to plate.
Strain broth through fine-mesh strainer, discard solids in strainer.
When cool enough to handle, shred chicken into bite-size pieces.
Puree tomatoes, remaining onions, remaining garlic cloves, chipotle chile, and 1 teaspoon adobe sauce in food processor until smooth.
Heat oil in dutch oven.
Add puree and 1/8 teaspoon salt and cook, stirring frequently, until mixture has darkened in color, about 10 minutes.
Stir strained broth into tomato mixture.
Add poblano pepper, red peppers, zucchini and remaining quartered onions.
Bring to a boil, then reduce heat to low and simmer to blend flavors, for about 15-20 minutes.
Taste test.If desired add up to 2 teaspoons additional adobe sauce.
Add shredded chicken and simmer until heated.
To serve, place portions of tortilla strips in bowl and ladle soup.
Pass garnishes separately.