Chicken to Please a Crowd!
Rita1652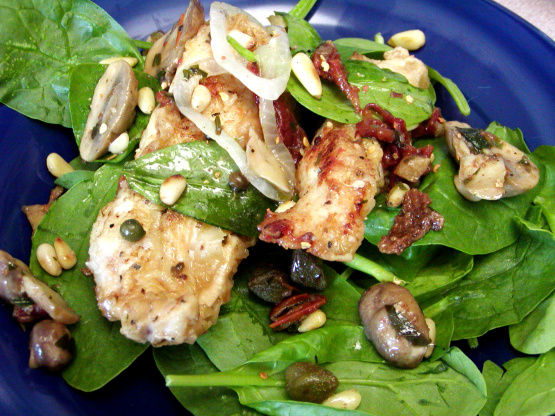 You 'll have no problem impressing a crowd with this elegant buffet dish! Lightly browned chicken with a sauce of sundried tomatoes, mushrooms, capers, green peppercorns & fresh herbs bedded on baby spinach which mixed with sauteed onions and garlic. Topped with toasted pinenuts. You can cut down this recipe. If you want serve on a bed of rice for a more elegant meal or place on a tortilla and wrap for more casual meal.

Top Review by sfhef
Made this for my family to test it for a shore crowd. It is very tasty and not too difficult. My husband said "oh, this is Coq au Vin". It really is. Chicken serves a lot cut like this - I didn't pound it out - cut horizontally and then cut in med size strips. Served with yellow rice and cantaloupe. May add a green salad for the shore but the baby spinach on the bottom is good. It will be a shore meal for a crowd.
Heat oil and butter in a large pan heavy bottom pan. Saute onions and garlic 3-4 minutes till translucent. Remove onions and garlic leaving oil in pan set aside.
Mix flour, salt, pepper and garlic powder together. Toss chicken in flour mixture to coat chicken strips.
In the same pan add oil if needed. Lightly brown chicken strips on all sides. Do not crowd pan. Repeat till all strips are browned. Adding additional oil as needed.
When all chicken is browned drain oil and discard.
To the pan add broth, wine OR water, tomatoes, thyme, parsley, capers, & peppercorns scraping all the goodness (brown bits) from the bottom of the pan.
Add mushrooms and butter bring to a boil toss in chicken to heat. Mushrooms will stay firm.
Toss the baby spinach with the onions.
Place spinach in chafing 3 dishes top with 1/3 of the chicken mixture on each bed of spinach and top with all the goodies(tomatoes, capers, mushrooms and herbs).
The cooked chicken will wilt the spinach.
Garnish with pine nuts.
Sit back and watch it disappear.