Chicken Tikka With Cucumber Raita
kolibri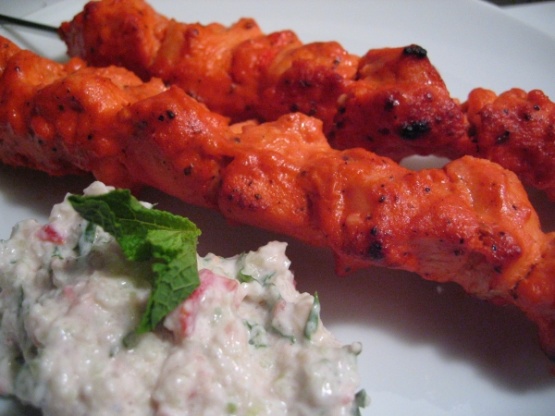 Tikka is the Indian version of shish kebabs. If you want to replicate the look of traditional Indian barbecue, add a few drops of red food coloring to the chicken marinade. Chicken marinates for 3-4 hours. This recipe was created by Steven Raichlen the BBQ King and author.

Beautiful recipe! I only made the chicken part of it and served with 166779 Cilantro Cream Sauce and they went wonderfully together. I marinaded the chicken overnight and left out the mace as I didn't have any on hand. Not spicy at all but with beautiful delicate flavours - oh, and I used hot English mustard for the Chinese variety. Thanks for posting your lovely recipe!
Raita

2

small garlic cloves, minced

2

cups plain yogurt
1⁄2 cup sour cream

1

medium cucumber (peeled, halved, seeded and chopped)

1

tomatoes, seeded and chopped
1⁄4 cup chopped mint leaf
1⁄2 teaspoon cumin seed, lightly toasted and chopped

Chicken

2 1⁄4 lbs boneless skinless chicken breasts, cut into 1 1/2-inch cubes

3

garlic cloves, minced

5

teaspoons minced fresh ginger
1 1⁄2 teaspoons salt
3⁄4 cup plain yogurt
1⁄2 cup vegetable oil, mixed with

1

tablespoon Chinese mustard

2

tablespoons fresh lemon juice

2

teaspoons ground cumin

1

teaspoon ground mace

1

teaspoon ground nutmeg

1

teaspoon ground cardamom

1

teaspoon turmeric

1

teaspoon cayenne pepper

1

teaspoon fresh ground black pepper
vegetable oil, for the grill
lemon wedge, for serving
thinly sliced red onion, for serving
chopped cilantro, for serving
Soak six 12-inch bamboo skewers in warm water for 30 minutes. Thread the chicken onto the skewers and set in a shallow glass baking dish.
On a cutting board, use the side of a large knife to mash the garlic, ginger and salt to a paste. In a bowl, whisk the paste with the yogurt, mustard oil, lemon juice, cumin, mace, nutmeg, cardamom, turmeric, cayenne and black pepper. Pour the marinade over the chicken; turn to coat. Cover and refrigerate for 3 to 4 hours, turning occasionally.
Raita: On a cutting board, use the side of a large knife to mash the garlic with a large pinch of salt to a paste. In a medium bowl, mix the garlic paste with the yogurt, sour cream, cucumber, tomato, mint and toasted cumin. Season with salt and pepper and put in refrigerator.
Light a grill. Lightly oil the grate. Grill the chicken over a medium-hot fire for about 4 minutes per side, or until it is cooked through and golden. Serve with the lemon wedges, red onion, cilantro and Cucumber Raita.