Debi9400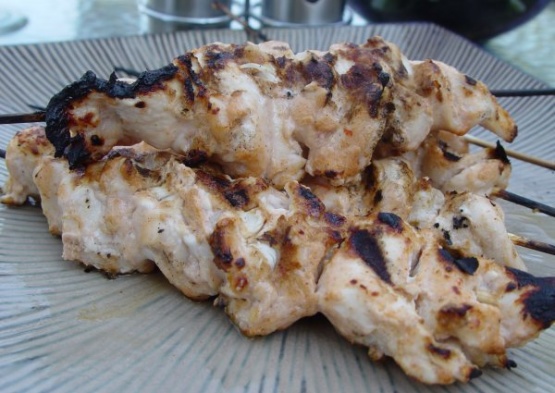 A combination of recipes from CuisineCuisine.com, cliveb on CheftoChef.net, Askachef.com and Epicurious.com

Lovely, i also missed out the butter stage, I served it with pilau rice and it was a gorgeous dinner. thanks for posting
Mix all but chicken together in bowl, refrigerate overnight.
Add chicken, cut in 1 1/2 inch cubes to marinate in afore-mentioned bowl, cover and refrigerate at least 4 hours.
Preheat oven to 350 degrees.
Bring chicken to room temperature and skewer on bamboo skewers (soaked in water for 30 minutes).
Place on baking tray and bake in oven for 20 to 35 minutes.
Three tablespoons of butter can be drizzled over for the last 5 minutes of cooking.