teresas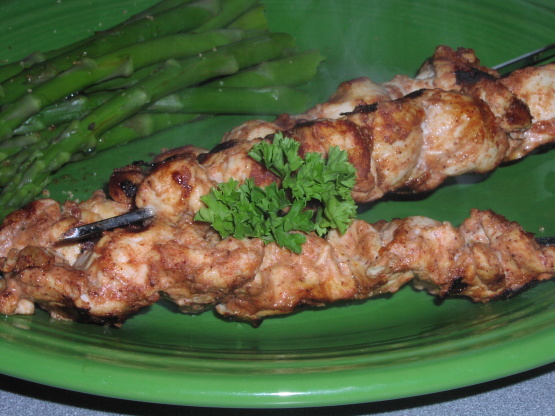 Over the years I have made many tikka recipes. This is my favorite since a few years. I have combined a recipe from the Master Chefs of India and Pat Chapman. Serve with onion rings, tomatoes and fresh coriander leaves. Marinating time not included.

This was an easy and delicious recipe to prepare. I used thighs which i slashed with a knife so the spices would penetrate. Cooked for 17 to 20 minutes and then turned and cooked the other side for another 20. I added the juice of one lemon to the marinade for a bit of zing. Also added powdered tandoori color for that authentic look! Thanks for sharing!
Cut the chicken breasts in long strips or cubes.
In a medium bowl combine the yogurt, garlic, ginger, onion, chili powder, coriander, tomato paste and salt.
Add the chicken to the marinade mix well.
Cover the bowl and refrigerate for at least 6 hours but overnight is better.
Skewer the chicken and cook under a hot grill, or even nicer cook them on the barbeque, 4 to 5 minutes on each side basting them with butter.
Serve on the skewers (or remove the chicken from the skewers if you prefer).