mianbao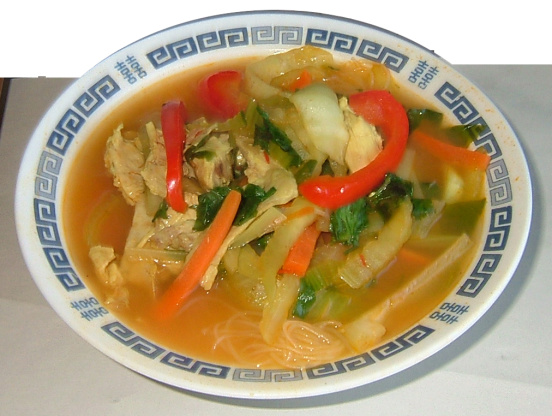 Himalayan Rice Noodle Soup with Vegetables and Chicken Slices

Wow! This is delicious. I had read the previous reviews, but forgotten about them when I made the soup. Perhaps this just shows that we're all different. I found the seasoning delightfully fragrant, and enjoyed all the different vegetables. I did substitute bok choy for spinach, but that was the only substitution. I also scaled the recipe for a smaller number of servings. I used thin rice noodles, but less than what is called for here. It may be that I'm very happy with this because I had no preconceived notion of how it should taste. Be that as it may, I will definitely be making this again. Thank you very much for sharing this recipe with us.
1

lb rice noodles

6

cups chicken broth
1⁄2 lb grilled chicken breast, cut into very thin 1/8 inch slices
1⁄2 cup carrot, julienned
1⁄2 cup red bell pepper, julienned
1⁄2 cup celery, julienned

1

cup spinach, washed and cut into pieces

1

tablespoon cooking oil
salt and pepper, as needed

1

tablespoon chopped cilantro (to garnish)

Soup Paste

1

teaspoon garlic, minced

1

teaspoon ginger, minced

2

fresh red chili peppers
1⁄2 cup cherry tomatoes

2

shallots, finely chopped

1

tablespoon fresh cilantro, minced

1

teaspoon toasted cumin seed
1⁄2 teaspoon turmeric
1⁄2 teaspoon szechwan peppercorn (timur)
1⁄16 teaspoon asafoetida powder

1

tablespoon freshly squeezed lime juice
Cook noodles in boiling salted water until slightly undercooked.
Drain and rinse; reserve in a large bowl.
In a blender, mix all soup paste ingredients into a thick paste; reserve in a small bowl.
In a sauce pan heat cooking oil; add soup paste, fry for 30 seconds or so.
Add chicken broth; mix well.
Bring to a boil; set heat to low and cook for a few minutes; adjust seasoning with salt and pepper.
Add all vegetables into the soup mixture; cook for a few minutes or until tender.
You may add more broth if a soupier consistency is desired.
Adjust seasoning with salt and pepper.
To serve, pour soup broth into a serving bowl and add grilled chicken slices and cooked rice noodles. Serve immediately.
Add hot chili sauce or tomato achar to the soup if you desire spicy soup broth.
Garnish with chopped cilantro.