Chicken Thighs With Lemon Garlic
Chef floWer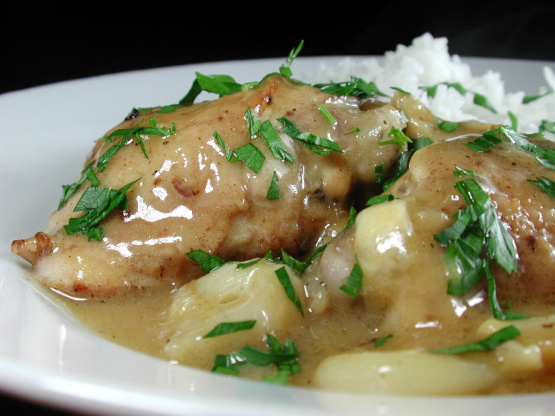 Don't be put off with large amount of garlic, this recipe is really full of flavour and has excellent sauce. I used on the bone chicken thigh cutlets because I think the chicken has much more flavour if it's kept on the bone and it is much tender. The original recipe comes from 'Taste of the Sun' by Jacqueline Clark & Joanna Farrow but I twinkled with it to suit our family. If you don't like a lot of salt in your diet you could use salt reduce liquid chicken stock but this will alter the flavour.

Very, very flavorful dish. I used boneless, skinless chicken thighs (that's all I could find at the store). The chicken was very tender and moist. I think next time I will use minced garlic AND garlic powder. I could barely taste the garlic in this dish because it was overpowered by the lemon. Other than that, the dish was delightful. Made for Aus/NZ Make My Recipe Tag Game.
To make the "Garlic Flavoured Chicken Hot Stock" put the stock into a pan and bring to the boil. Add the garlic cloves and simmer gently for 40 minutes. Strain the stock and reserve both stock and garlic.
Preheat the oven to 190oC/375oF/Gas 5.
Fifteen minutes before stock is ready, heat large sauté or frying pan, then add the butter and oil and allow the butter to melt.
Add the chicken thighs and cook gently on both sides until golden brown. Transfer them to an ovenproof dish.
Distribute the garlic (which was in the hot stock) and lemon slices among the chicken pieces in the ovenproof dish.
Add the flour to the pan which you browned the chicken and continuously stirring for one minute.
Add the extra chicken stock, stirring constantly and scraping the bottom of the pan, and then add the hot stock to the same pan. Stirring, until the sauce has thickened and is smooth.
Season with salt and pepper.
Then pour the sauce over the chicken, cover and cook in the oven for 40 minutes.
Serve chicken on dinner plates and garnish with chopped parsley
You could serve with boiled new potatoes or rice.