Chicken Thighs Simple and Delicious
Ambervim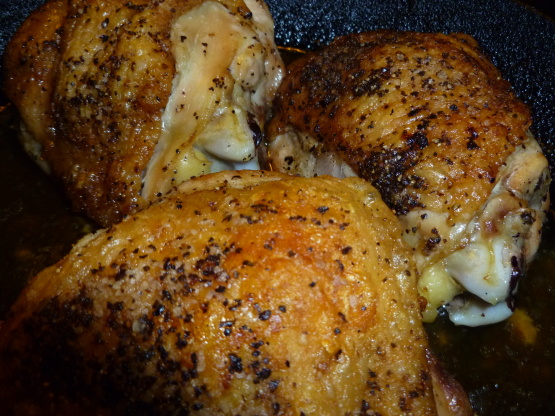 This creates crunchy yummy skin. It is ridiculously easy. Thighs have more flavor than the other pieces. You can either eat this as is or use it in another recipe.
Preheat oven to 350°F.
Put your cast iron skillet on the heat. I like cast iron as it holds the heat so well. If you don't have a cast iron skillet, get one. For the time being use any skillet or pan you can use on the cooktop and place in the oven.
When hot, add a thin coating of oil.
Salt and pepper the skin of your thighs. Add other herbs or spices as you please.
Place chicken, skin side down in the skillet. Cook until well browned.
Turn the chicken over and place skillet in the overn for 25-40 minutes, depending on how much you are cooking.
When you take it out the skin will be crispy and the mead done through and juicy. Fat will have drained from the chicken, so remove it to paper towels to soak that up before serving.