Chicken Thighs in a Wine and Lemon Sauce
Zurie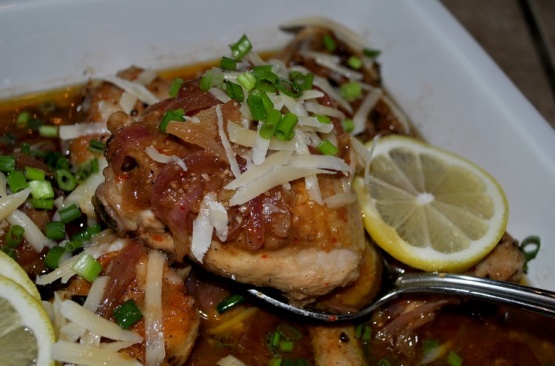 Adapted from a recipe I saw on the internet.

Top Review by Zurie
Made for dear Papa D's Cookathon, June 2012. A delicious and easy recipe! Dear Papa, I should have made this when you were still with us, but I hope up in Heaven you can see us cooking your recipes! I made it exactly as stated, but I confess that I added some honey to the sauce and made it less lemony and slightly more tangy, purely because my husband is not as fond of lemony dishes as I am! This is our meat dish for tonight, to be served with brown basmati and S A stewed green beans, and a salad. You left out the Parmesan cheese in your ingredient list, but no worries, I'll edit your recipe and add that ingredient. May you be healthy and happy where you are. With love. Z.
Preheat the oven to 350°F.
Season thighs well on both sides with lemon pepper. Place the flour in a shallow dish. Then dredge the chicken in the flour and place on a separate plate.
In a deep oven proof skillet or dutch oven, add oil and heat over medium-high heat. When the oil is hot but not smoking, add the thighs and brown well on both sides, about 5 or 6 minutes. Remove the chicken from the skillet and set aside.
Add the onions to the oil and cook, stirring to scrape up any browned bits at the bottom of the pan. Cook for about 5 minutes. Add the garlic, and season with salt and pepper. Cook for another minute or two. Add the wine, lemon juice, and chicken broth. Let mixture simmer for a few minutes. Add the butter and allow it to melt.
Add the chicken thighs to the sauce. Top with chopped chives. Cover with lid, and place in the middle of the oven. Bake for 20 minutes, remove the lid and cook an additional 20 minutes. Before serving sprinkle with a garnish of fresh chopped chives and the ¼ cup of Parmesan cheese.