lets.eat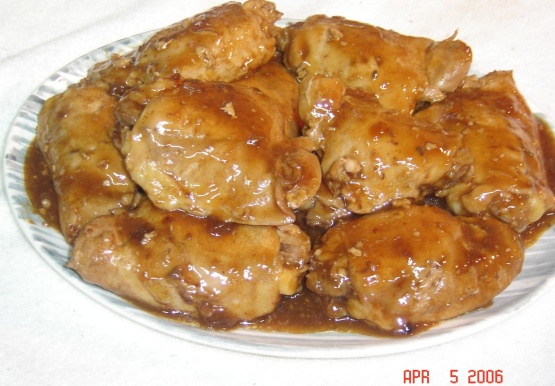 Here is a fast microwave chicken dish. It takes no time to prepare and is on the table in less than 30 minutes. This is good cold as well.

Very good, thank-you, my husband thought it was what he calls "sneaky hot",he enjoyed it and wants it again. My mouth is still tingley. Used skinless, legs. The only problem I had was after the first 6 minutes I took the chicken out to turn it over and the sauce had heavily congealed, so I spooned it into a cup and poured 3 or 4 more tablespoons of sherry in and whisked it up, put the chicken back in and poured the thinned sauce over it. When it was done, (8 minutes) the sauce had thickened again and coated the chicken nicely, without adding any more cornstarch. It will be a repeat. Looking forward to cold left overs. Dorothy
Combine soy sauce & cornstarch in 8" baking dish.
Stir well & add sherry, ginger, garlic & cayenne.
Place chicken in dish and coat with soy mixture.
Cover with wax paper.
Microwave on high 6 minutes.
Turn pieces over, stir sauce & spoon over chicken.
Sprinkle with paprika.
Cover again & microwave on high 6-8 minutes.
Rest 5 minutes, spoon sauce over chicken & serve.