TAHINAZ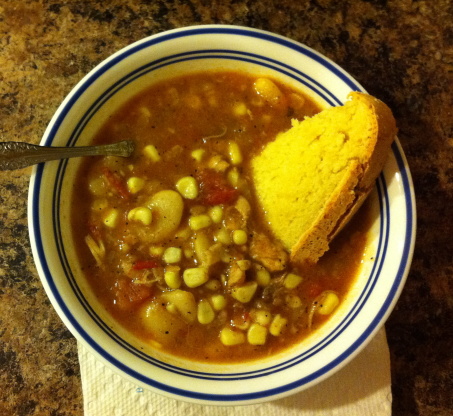 Originally printed in Aunt Bee's Mayberry Cookbook, this hearty, tomato-based stew tastes a little like a mild chili with the smokey taste of fried chicken. Don't let the lima beans discourage you. They really do add to the favor. Variation: two pounds of beef maybe substituted for the chicken.
Flour the chicken.
In a large stock pot, brown the chicken in oil.
Add the onions and cook until clear, stirring occasionally.
Add the tomatoes, water and seasonings.
Cover and simmer until the chicken is almost tender.
Take out the chicken and remove the bones and skin. Leave the chicken meat in fairly large pieces.
Return the chicken to the stew and add the corn and lima beans.
Continue cooking until vegetables are tender.
Serve hot.