christie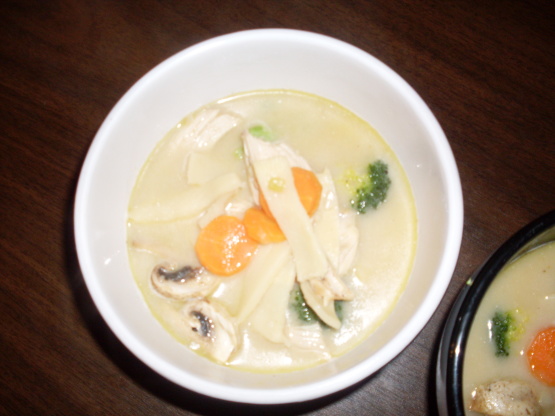 This is a variation on numerous recipes I have found for one of my favourite dishes!

The taste of this was very good, but the amount of stock was a bit too much for my liking. If you are looking for soup, this is a great recipe, but for a curry I really found it to be too runny. Next time I'll skip the stock and only use coconut milk. Thanks for sharing!<br/>Made for Bargain Basement May 2013
Heat 1 T oil in a wok and add finely chopped chilli and garlic. Quickly brown the chicken and while cooking add a squirt of lime juice. Remove to a plate.
Cook the ginger and finely chopped spring onion until fragrant.
Add the curry paste and cook for 30 seconds.
Add the stock and cook down for 5 minutes.
Combine the coconut milk, fish sauce and sugar and add to the wok.
Bring to a rolling boil and add your chicken and continue cooking until chicken is nearly cooked.
Add vegetables and bamboo and cook til slightly crisp.
Serve with rice.