cbw8915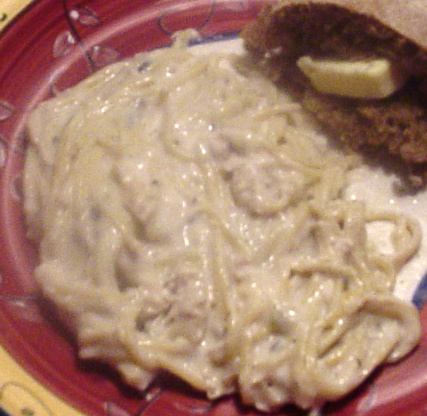 I adopted this recipe from the Recipezaar account as I am always on the look out for quick and easy recipes. This is the original introduction:"I came up with this recipe after I had some at my sisters house and forgot to get the recipe. I think my turned out pretty similar (I know, I could have called and gotten it, but I like to experiment!)" Thanks cbw

This was so quick and tasty. DH loved it. I bought a rotisserie chicken at the grocery store, and just shredded that up. And my kids think that they don't like cream of mushroom soup. So I used one can of Cr of mushroom and one of cream of chicken with herbs. It was very tasty.
Cook spaghetti and drain.
Mix together chicken, sour cream, and cream of mushroom soup.
Combine spaghetti and soup mixture and put in 3qt pan.
Sprinkle with parmesan cheese.
Cover and place in 350°F oven and bake for about 45 minutes or place in crockpot on high for 2-3 hours (I have also just warmed in the microwave for an even quicker meal, but prefer the oven or crockpot method.).