diner524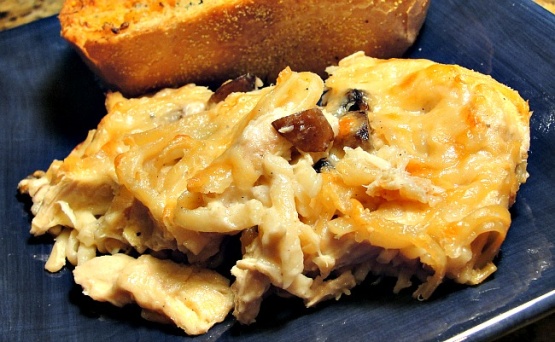 This is a much shorter/easier recipe than the one in the original Gourmet cookbook in the 1950's that my mother used to make for me on my birthdays and tastes just as good! Found this online at www.relishmag.com.
Very easy Tetrazzini, especially if you already have cooked chicken on hand. I had made a roasted chicken a couple of weeks ago and had both chicken breasts left, so I sliced that up and froze it, perfect to use in this recipe. Next time, I would not use the nutmeg and would add some garlic and maybe even some onion for more flavor, but all a personal taste preference. Thanks for sharing the recipe. Made for Spring 2013 PAC event.
Heat oven to 425°F In a large nonstick skillet melt butter over medium-high heat. Add mushrooms; sauté 4 minutes or until browned. Sprinkle with flour and toss to combine. Add broth and half-and-half; cook, stirring often, until mixture comes to a boil. Reduce heat and simmer 2 minutes, stirring constantly. Stir in sherry, salt, pepper and nutmeg. Remove from heat and stir in chicken.
Combine spaghetti and chicken mixture; toss gently and spoon into a 13 x 9-inch baking dish or shallow 3-quart baking dish or casserole; sprinkle with cheese. Bake 20 minutes or until golden brown and bubbly. Serves 6.
By Jean Kressy, "Relish the American Table, May 21, 2006.