Pellerin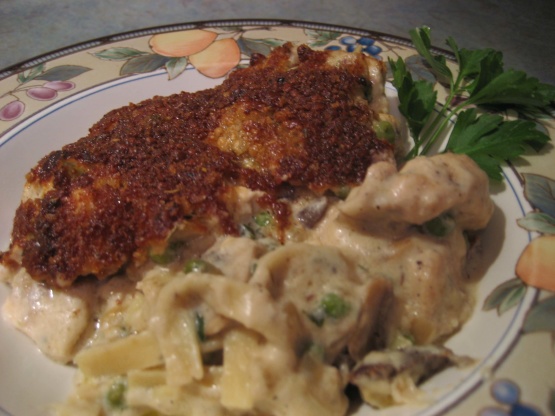 Creamy chicken and noodles...crunchy herbed topping, and J-U-S-T enough veggies to qualify as "healthy." Inspired by a recipe found on FoodNetwork, I've played with it enough to make it a new standard in our house. Freezes beautifully! (Note: Can easily use 2-3 of Costco's Kirkland brand canned chicken breast, or pick up a roasted chicken at your local mega-mart!)
12

ounces linguine (I use fresh, garlic-pepper flavored. You can use dried, plain)

8

ounces butter (divided)

3

tablespoons olive oil

1

tablespoon salt

2

teaspoons pepper

1

lb mushroom, fresh sliced
1 1⁄2 onions, diced

6

garlic cloves, minced

1

teaspoon dried thyme

1

tablespoon fresh thyme (or 1 more teaspoon dried thyme)

2

teaspoons poultry seasoning, divided

1

tablespoon italian seasoning, divided

1

cup dry sherry or 1 cup dry white wine
1⁄2 cup flour

5

cups half-and-half or 5 cups milk

1

cup chicken broth (I like Swanson Organic in the box, very rich flavor)
1⁄4 teaspoon ground nutmeg (fresh if poss)

1

cup frozen peas, thawed
1⁄2 cup flat-leaf Italian parsley

1

cup parmesan cheese, grated

1

cup breadcrumbs
Preheat oven to 375. Spray a 9 x 13 baking dish with Pam.
Cook pasta per package directions. Drain and set aside in large bowl.
Cut chicken into bite-sized pieces and sprinkle with salt & pepper.
In a Dutch oven, melt 2 Tbs. butter and 1 Tbs. olive oil over medium/high heat. Saute chicken until light golden. Remove from pan and place in bowl with pasta.
Add another Tbs. of butter/olive oil to pan and saute onions and mushrooms until lightly golden; 10-15 minutes. Reduce heat to medium/low. Add garlic, thyme, 1/2 of the Italian seasoning, and 1/2 of the poultry seasoning. Lightly saute another 2 minutes - don't burn garlic. Deglaze with sherry and reduce until no longer liquidy. Pour over chicken & pasta in bowl.
Melt 3 more Tbs. of butter and remaining olive oil. Add flour and stir constantly for 2 minutes. Whisk in half-and-half, broth, nutmeg, and remaining salt & pepper. Bring to a boil and simmer until thickened; ~5 minutes.
Stir in the peas, parsley, and chicken/mushroom/pasta mixture. Mix well. Pour into 9 x 13 pan.
In a small bowl, combine breadcrumbs, Parmesan, and remaining Italian & poultry seasonings. Sprinkle on top of casserole. Dot top with remaining butter. Bake, uncovered, for ~30 minutes, until golden brown and deeeelicious!