Pamela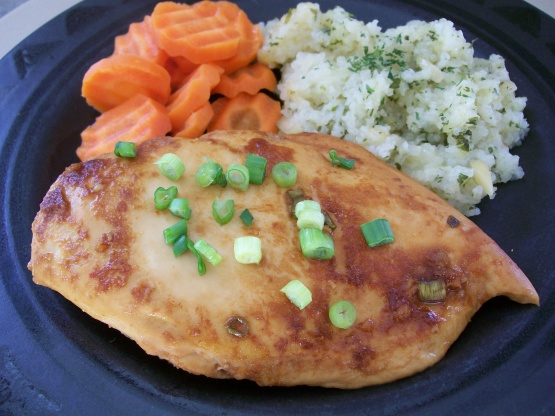 From Reader's Digest July 2006

I made this with 2 tablespoon yellow onions, as I had no green ones. Also I used 2 tablespoons Spaghetti sauce instead of ketchup. The smell wafting from the oven is delicious. I know its going to be great. I agree with the less honey idea.
Combine all ingredients in a large ziploc bag and marinate for at least and hour or up to 24 hours.
Transfer to baking dish and bake uncovered at 350 degrees for about 30-40 minutes or until chicken is cooked through. Spoon remaining sauce over chicken and serve.
Thes recipe also works great on the BBQ. Grill over mediumheat for about 10-15 minutes, flipping occasionally until chicken is cooked through.
For OAMC: freeze after step one. Defrost overnight in fridge and then bake as directed in step 2.