Chicken Tequila Fettuccine
Pam-I-Am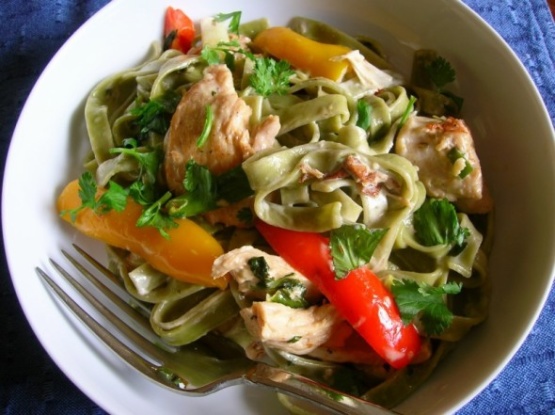 This is one of those special occasion recipes. It looks and tastes wonderful. It was created and shared by a local Houston restaurant.
This was really good! It is realatively simple to make and the flavors are great. I used one whole jalepeno, seeds and all, and it was just enough spice to let you know that it was there but not hot enough to make it inedible. **Side note, Be careful when handling chile peppers. I forgot to wash my hands after chopping it. I rubbed my eyes and you would have thought someone was killing me!!** The colorful bell peppers add a nice touch to make it appealing to the eye too. I took the left overs to work and shared them with my office staff. The boss asked for the recipe! Overall, this is a very easy, tasty recipe that I will most definately make again!
Prepare rapidly boiling, salted water to cook pasta; cook until al dente, 8 to 10 minutes for dry pasta, approximately 3 minutes for fresh.
Pasta may be cooked slightly ahead of time, rinsed and oiled and then reheated by dipping into boiling water or cooked to coincide with the finishing of the sauce/topping.
Cook 1/3 cup cilantro, garlic and jalapeno in 2 tablespoons melted butter over medium heat for 4 to 5 minutes.
Add stock, tequila and lime juice.
Bring the mixture to a boil and cook until reduced to a paste-like consistency; set aside.
Pour soy sauce over diced chicken; set aside for 5 minutes.
Meanwhile cook onion and peppers, stirring occasionally, with remaining butter over medium heat.
When the vegetables have softened, add chicken and soy sauce; toss and add reserved tequila/lime paste and cream.
Bring the sauce to a boil; boil gently until chicken is cooked through and sauce is thick (about 3 minutes).
When the sauce is done, toss with well-drained spinach fettucine and cilantro.