Chicken Tenders With Lemon-Spinach Rice
Swirling F.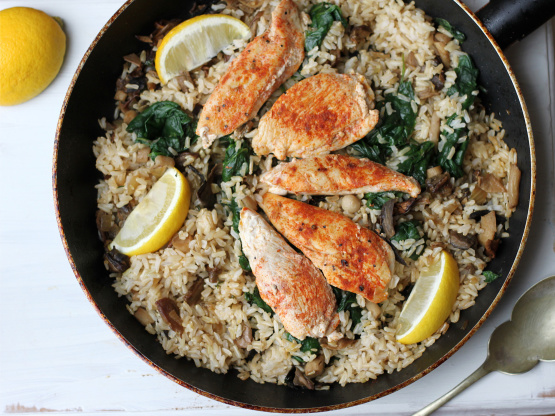 Tasty low-fat, easy to prepare chicken tenders with rice and vegetables which you can have on the table ready to enjoy in less than thirty minutes. Adapted from a recipe in 'Terrific Chicken: 100 great meals in minutes'.

Top Review by Debbwl
Healthy and delicious! Used bulgur in place of brown rice. Which required cutting the bulgur to 1 cup and increasing the lemon juice to an 1/8 of a cup and increasing the cooking time to 17 minutes. Rubbed garlic all over the chicken about 10 minutes before cooking so the flavor would cook in. Like the way the garlic chicken and pan drippings accented the lemon and veggie base. Very good will be making again. Thanks for the post.
Melt the butter in a large skillet over medium heat; add the chicken tenders and the garlic; cook, turning, for 6 minutes or until the chicken is golden brown and the juices run clear; transfer to a plate and keep warm.
Add all the remaining ingredients except the spinach and bring to the boil over a high heat; cover and reduce the heat to low;cook for 10 minutes or until the liquid has been absorbed.
Add the spinach to the skillet and toss to mix well; place the contents of the pan on a large platter and top with the chicken.