rpgaymer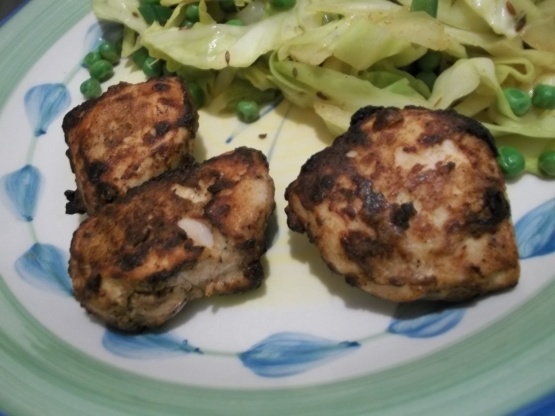 Have tried MANY Tandoori recipes, TRUE! This one found on the internet recent too! I think it is AWESOME and easy and can be! Would HIGHLY RECOMMEND to to all and to someone who has never made previously an Indian recipe! Always give credit where credit is due too! This recipe is my "THE ONE" for Tandoori now too! HINT: TIP: Definitely use the red coloring, TRUE! But be careful as it stains easily but doesn't not affect the tasting per se (other than the visual) too! http://panlasangpinoy.com/2010/11/09/how-to-cook-tandoori-chicken/ NOTE: I think it it more than 6 serves I marinated it overnight; not included in prep or cook time Used chicken thighs as thought would be better ....am normally a chicken breast person, but with this recipe, recommend the thighs If you cut serving pieces evenly and pound them, will make consistency in cooking easier too
I've attempted to make chicken tandoori before, but none have turned out as good as this recipe. Since we don't have a grill, I cooked this in the broiler for 20 minutes, turning the chicken halfway through the cooking time. I love the flavorful crust that formed- just like the chicken tandoori at my favorite Indian restaurant. Thanks for sharing this great recipe!
In a large bowl, combine all of the ingredients except for chicken and olive oil. Mix thoroughly.
Put the chicken in the bowl and coat with the mixture.
Marinade for 8 to 10 hours.
Remove the chicken from the marinade and brush with olive oil.
Grill until both sides are done.
Transfer to a serving plate and garnish with sliced onions, carrots, and cucumber.
Serve. Share and Enjoy!