Chicken Tajine With Preserved Lemon and Olives
Nasseh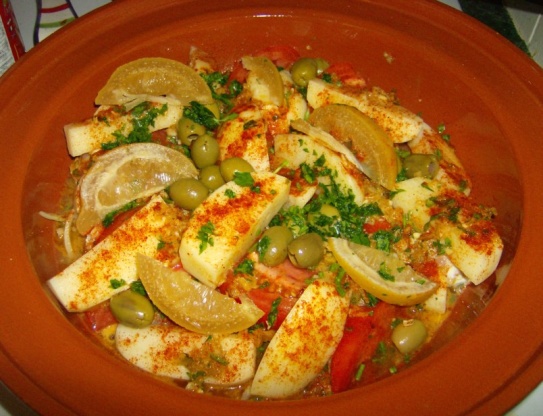 Chicken Tajine with preserved lemon is known to be Morocco's second most popular dish after couscous and considered to be the national dish. Tajine is a pot which is made from heavy clay that has been glazed. The shape of the pot is designed to promote the return of all condensate to the bottom. The base of the pot is flat and circular with low sides, and the lid is a shape of a large dome. This recipe was shown on SBS's Food Safari by chef's Hassan M'Souli. I served it with Savoury Couscous. Preparation time does not included overnight marinating time.

We truly enjoyed this tonight over recipe #221217, a terrific combination! I didn't change anything. I had on hand recipe #295914, which I'd made in June. This is great, thanks, Chef floWer! Made for N*A*M*E tag.
Chermoula Marinade

1⁄2 teaspoon saffron thread
1⁄4 cup water (to soad saffron)

2

garlic cloves, halved

1

tablespoon fresh ginger, chopped
1⁄2 preserved lemon, rinsed

2

onions, Quartered
1⁄2 red chile

1

tablespoon sweet paprika

1

tablespoon ground cumin

1

pinch salt

1

teaspoon ground black pepper

2

tablespoons fresh coriander (chopped with stems and leaves) or 2 tablespoons fresh cilantro (chopped with stems and leaves)

2

tablespoons fresh parsley, chopped
1⁄2 cup olive oil

2

bay leaves, torn in half

Chicken and Garnishes

1

roasting chickens, cut into 8 pieces (Size 10 or 12) or 8 chicken drumsticks or 8 chicken thighs (With bones)

1

tomatoes

1

onion

2

large potatoes, cut into wedges

1

onion, sliced

1

tomatoes, sliced

150

g green olives, pitted

1

bunch fresh coriander or 1 bunch fresh cilantro, chopped

1

cup water

1

preserved lemon, cut into 6 segments
Chermoula Marinade: In a small bowl add saffron threads in water and allow to soak for a few minutes.
In a food processor add all the 'Chermoula marinade' ingredients and combine until it forms a paste.
Cover and allow 'Chermoula marinade' to stand for 30 minutes before using. (Chermoula marinade can be stored in the refrigerator for up to seven days).
Wash and dry the chicken, then rub all over with half of the chermoula marinade and refrigerate overnight or for at least two hours.
After marinating, cut tomato and onion into thin wedges and combine a little more chermoula marinade. Then spread the tomato and onion into the base of the tajine.
Place the chicken pieces on top of tomato and onion mixture arranging them in the centre of the tajine.
Coat potato wedges with the chermoula marinade and arrange the potatoes around chicken.
Top the chicken with onion slices, then tomato slices and olives in between the potato wedges.
Mix chopped coriander/cilantro with remaining chermoula marinade and water (you made add less water, it depends how much your tajine could hold). Pour mixture on top of tomatoes and onions.
Top with preserved lemon wedges then cover tajine with lid. Cook on a very low gas heat for 45 minutes. Do not stir or lift the lid during the cooking process.
Serve with suggested couscous.