Chicken Tagine With Potatoes and Peas (Morocco -- North Africa)
awalde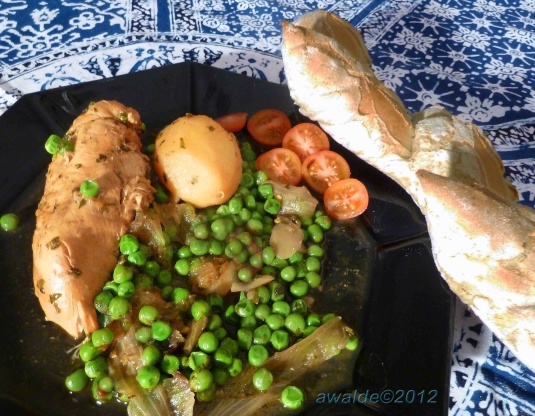 This recipe comes from the 2002 cookbook, Mediterranean Street Food. This original of this recipe called for a whole chicken, cut into 8 pieces, but I've used 6 chicken breasts, bone in.

Top Review by awalde
This was really delicious!
This is phantastic dish that can be prepared in advance. The quantity of spices depends on your taste and on the quality of them! I think you can't really do something wrong with this recipe.
I prepared at the same time some fresh bread and we enjoyed both together.
Thanks a lor for posting this recipe.
In a large flameproof casserole, combine chicken, onions, garlic, oil, saffron, cumin, ginger pepper, paprika & salt, then cover with water, about 2 cups. Over medium-high heat, bring to a boil & cook, covered, for 30 minutes.
Add parsley, cilantro & potatoes, then cook, covered, another 15 minutes, stirring occasionally, until potatoes are nearly done.
Add peas, lower the heat & simmer for 5 minutes more.
If sauce is still runny, uncover the pan & boil hard until thickened, then taste & adjust seasoning, if necessary, before transferring to a preheated serving dish ~ Serve very hot with a good bread!